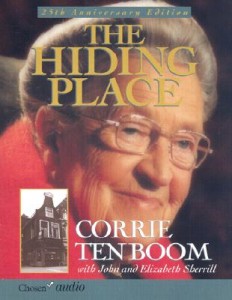 "Worry does not empty tomorrow of its sorrow. It empties today of its strength." Corrie Ten Boom
Corrie Ten Boom knew the importance of staying focused in the present. She needed strength to get through each day rather than wasting valuable energy worrying about tomorrow. For her, the possibility of  tomorrow never coming was very real.
The Ten Boom  family, were devoted Christians who dedicated their lives serving others. During the Second World War, this dedication was put to the test as they turned their home into a hiding place, for Jews and others hunted by the Nazis.
During 1943 and into 1944, there were usually 6-7 people illegally living in their home, 4 Jews and 2 or 3 members of the Dutch underground. By opening up their home in this way they saved an estimated 800 Jews, and protected many Dutch underground workers.
On February 28, 1944, the family was betrayed and the Nazi secret police raided their home. Corrie and her sister Betsie spent 10 months in three different prisons, the last was the infamous Ravensbruck Concentration Camp near Berlin in Germany. Life in the camp was almost unbearable. In her book "Tramp for the Lord", Corrie describes how the camp was full of fleas. Instead of being miserable, Corrie gave thanks to the Lord for the fleas because it kept the guards at a distance, allowing Corrie and Betsie to spend their time sharing Jesus' love with their fellow prisoners. Many women became Christians in these awful circumstances because of Corrie and Betsie.
Four of the Ten Boom family lost their lives during the war, but Corrie survived.  She realized her life was a gift from God, and needed to share what she and Betsie had learned in Ravensbruck:
"There is no pit so deep that God's love is not deeper still" and "God will give us the love to be able to forgive our enemies" (which amazingly she did).
At the age 53, Corrie began a world-wide ministry. She traveled to more than 60 countries in the next 33 years where she testified to God's love and encouraged all she met with the message that "Jesus is Victor." Corrie died on her 91st birthday, 15 April 1983.
Jesus said "Therefore do not worry about tomorrow, for tomorrow will worry about itself. Each day has enough trouble of its own". (Matthew 6:34 (NIV)
Corrie's amazing life story can be read in the books "The Hiding Place" and "Tramp for the Lord". I read "Tramp for the Lord" many years ago and found it truly inspiring book.